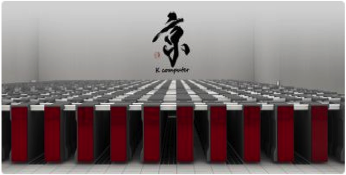 "K" Computer Optional Tour for Kobe Supercomputing Center will be held
on September 14, 2012.
K Supercomputer Center Visit Schedule
14:00-15:00
Dr. Tadashi Watanabe, "Development of K Supercomputer"
K Supercomputer Project Leader,
RIKEN Next-Generation Supercomputer R&D Center
Seymour Cray Award & Eckert-Mauchly Award Recipient.


15:00-16:00 

K Supercomputing Center Tour

16:00-16:15    HPC Programming Framework Research Team by N.Maruyama
16:15-16:30    HPC Usability Research Team by T.Maeda
16:30-16:50    Programming Environment Research Team by H.Murai
16:50-17:15    Discussions
"K" Supercomputing center is located in Kobe prefecture of Kansai district.
You can see the detail in this page.
You can take Shinkansen (Superexpress) or airplane from Tokyo which is in Kanto district.
Normally the former costs 15000 yen and the latter costs 24000 yen.
The nearest airport is Kobe Airport, which is not an international airport.
The nearest international airport is Kansai International Airport.
This page would be helpful to see access in Kansai district.
You can also move from Kobe to Kansai International Airport by bay shuttle.
If you are from outside Japan, round trip ticket from your city to Kobe via Tokyo might be discounted.
You can see how to access "K" supercomputing center on this website.
Printable version is HERE